ENTRIES NOW BEING CONSIDERED FOR THE 2022 RENAISSANCE EURO FEST!
THE 14TH ANNUAL RENAISSANCE EURO-FEST IS SET FOR SEPTEMBER 30TH - OCTOBER 1st, 2022
Once again for the 14th year in a row, the great automobiles and motorcycles of Europe will be coming to Renaissance at Colony Park in Ridgeland, MS for the 14th annual Renaissance Euro Fest Classic European Auto and Motorcycle Show. Entries in the show must be twenty-five years or older (built prior to 1997) except for a selection of newer special interest autos of rare and limited production.
For European auto enthusiasts, this is a wonderful opportunity to enjoy the beauty of British, Italian, German, and many other European vehicles. If brands such as Rolls-Royce, Volkswagen, Ferrari, Porsche, Land Rover, BMW, Alfa Romeo, Daimler, Jaguar, Norton, Ducatti, Royal Enfield, BMW, Mercedes-Benz, (to name just a few) excite your senses, then you need to get all in!
It's a perfect time of year to be outside, strolling through the Renaissance, and viewing gorgeous autos and motorcycles.
This year the event will be held on Saturday, October 1st, from 10:00 AM to 5:00 AM. The show is open to all European Marques with no registration fees and is free to the public as well. Over 15,000 spectators are expected to view 150+ entries manufactured in five different countries, coming from ten different states.
If you are interested in entering an auto or motorcycle in the show, you may find an entry form at www.euro-fest.net THERE IS NO ENTRY FEE FOR PARTICIPANTS, BUT ALL PARTICIPANTS MUST REGISTER VIA OUR WEBSITE WITH APPROVAL.
This year's show will begin Friday, September 30th with optional drives departing Memphis and New Orleans, coming together at the show site for the combine and escorted, eBay Motors Renaissance Road Rally Drive, on Friday, September 30th, from the Hyatt Hotel at the Renaissance. The police-escorted drive will travel on an enjoyable route to an equally enjoyable location and then back to the Renaissance for the "Pick Up Your Packet" Reception that evening.
For More Information, please click the menu at the top of the web site.
Mike Marsh
Phone: 601-946-1950
E-mail: mike@marshmarketing.ms
Founder and Director
Renaissance Euro Fest
Natchez Euro Fest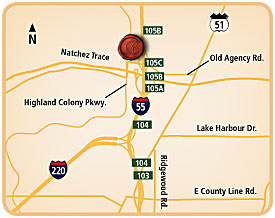 Directions
From North/South: I-55 to Old Agency Road, exit 105C (from South) or 105B (from North) to Renaissance at Colony Park.

From East: I-20 West towards Jackson: Merge onto I-55 North to Old Agency Road, exit 105C, to Renaissance at Colony Park.

From West: I-20 East towards Jackson: Merge onto I-220 North to I-55 North. Follow to Old Agency Road, exit 105C, to Renaissance at Colony Park.